Chairman : Alan Higgins ; Old Mill of Birsack, Kinellar, Aberdeen, AB21 0TP
Treasurer : Dave Poulter ; 98 Goshawk Drive, Chelmsford, Essex, CM2 8XP
Secretary : David Low ; Hill Farm, Houghton, Milford Haven, SA73 1NE
News Letter : Dick Marland ; 2 Little Orchard Gardens, Rugeley, Staffs, WS15 2ES.
Members ....... : John Charnock ; 25 Lords Meadow View, Pembroke, SA71 4BA
...................... : Trevor Jones ; 50 St. Davids Road, Pembroke, Pembs., SA71 5JH
...................... : Chris Morris ; 75 Kingston Lane, Teddington, Middx., TW11 9HE
...................... : Sid Richards ; 10 Heathwood Grove, Heath, Cardiff, CF14 3RD.
...................... : John O'Donnell : Whistlefield, Kilham Lane, Shipton Oliffe,
Website Editors : John Newton and Dave Poulter
Alan Higgins chairman enjoys the sun.
Alan Higgins
Having gone to sea as a deck apprentice with the BP Tanker Company in 1960 and gained a Masters Certificate in 1969, Alan joined Chevron Shipping as a Chief Officer in 1970 and three years later, took command of a VLCC. Having commanded VLCC's for three years, he was assigned to Saudi Arabia for three years as the Company's Marine
Representative. In 1978, he transferred to the North Sea as an Offshore Installation Manager in the then new Ninian Oil Field. Over the following 16 years, Alan took on increasing responsibilities for Company operations in the North Sea.
Having taken early retirement in 1997, he has now been involved with the Association for ten years and is extremely serious in his efforts to safeguard and improve the interests of retirees. From 1989 to date, Alan has also been involved as a Director, Company Chairman and Consultant, with Oil Spill Response Limited - an oil industry cooperative company dedicated to maintaining the environment on behalf of the industry. He also works on a volunteer basis for the Energy Institute, promoting careers in the industry with schools, colleges and universities. Married to Nan for 43 years, with two married sons, one of his main leisure pursuits is as the Chairman and also a working volunteer on the Welshpool & Llanfair Light Railway in mid Wales, helping to run preserved steam trains for the enjoyment of all.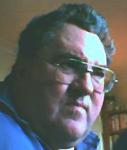 Dave M. Poulter
Degree in Chemical Metallurgy. Research at Imperial College for NATO. Went to Anglo American in Kitwe, Zambia in the office of the consultants. Returned to UK and worked in Seltrust Engineering a Mining Finance firm. Worked for Gulf and Chevron in various senior Operational Research and Information Technology management roles. Worked in all areas of the company both technical and management support.
Treasurer/Membership Secretary/Website instigator and Editor for the Chevron UK Pensioners' Association for the last 9 years. Works hard to improve the situation of pensioners.
LCP for the Chevron Retiree Welfare Programme.
Retired as Chairman of the Friends of Family Finders and as a life guard at the residents association swimming club. Drives for old folks' luncheon club. He enjoys continental touring and associated eating and drinking.